In the world of short form content creation, it should be known that creating a captivating title or thumbnail for a piece of content is key. Did I succeed? Did I get you? Don't lie, I did.
Let's be serious though.
You knew the answer to the above; money can't grow. Or can it? Certainly not in a way that a tree or flower grows (although the above says otherwise) however, it can grow, if you spend less of it. (or invest it) Pretty obvious right? You would think, however I have come accross countless people who have no idea how much money they earn, and even less about how much they spend. One thing is nearly always certain for them; at the end of the month they get a statement with the account in overdraft, or their card gets declined while buying their sixth starbucks coffee of the day.
What I always imagine someone to be looking like in those moments is equivalent to John Travolta in this Pulp Fiction scene. Here, some visual aid.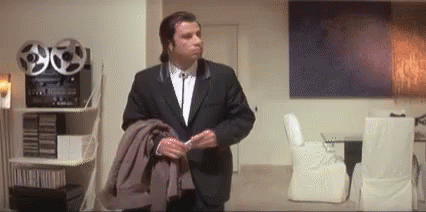 Below I am going to explore some tips on how to prevent yourself from looking like John Travolta in Starbucks unable to pay for his quadruple iced cherry pumpkin frappucino with extra cream. Do note though, these are tips from my OWN experience and they may not work for everyone, but hopefully someone.
People who make financial content on the internet (which by the way is not the sole purpose of this website) love using the term 'This is not financial advice' and thus I will say it here too, in case that wasn't understood.  This is not financial advice, thank you for reading. Now, with that out of the way let's move on.
The year is 2023, online banking is a thing (for the most part)
One of the first questions I ask anyone who asks me how do I save money: Do you have any way to track your spending on a daily basis? Usually the answer is 'no'. (if you are familiar with tracking your spend, scroll past this section)
Well, let me tell you; there is a simple solution for this. Online banking apps exist in a pretty widespread fashion nowadays (some being designed far inferior to others. Yes AIB I'm pointing at you) Whatever your bank of choice is, they probably have an app you can download and track your spending and earning in a daily, weekly and monthly view - all from your phone. What having this will do is give you a closer understanding of where your finances are going or coming from as a first level. Revolut seems to be a common one out there these days.
Money in, money out - it's simple, really.
In order to become more mindful of money you have, you will need to know what comes in on a monthly (or whatever frequency you get paid in) basis, and what goes out on a monthly basis. Sounds easy. I track this on a sheet which I will link for anyone to use and customize for their own needs. Exercise incoming.
Before we go deeper: What is the difference between online banking and a sheet like this? A sheet as the one below highlights all Fixed costs (it's unlikely they will change from month to month, like rent) in an easy to digest view. Your online banking platform likely has a suboptimal user interface which you cannot optimise to your own needs/level of detail, so I adopted this approach in addition to the app. The more the merrier, right?
Download the sheet or find an alternative online somewhere which suits your needs better (it doesn't have to be glamorous one bit, the main thing is you get started), go through your payslips and find out what you earn in a month. Next, find out what you spend in a month (and yes this will require some work) and write it up into categories on your sheet. Once you have this completed it should look something like the below screenshot. Note, these are fictional amounts. (I wish I paid 100 Euros on rent) Everything summed up should be taken with a grain of salt. Unless you calculate everything into an incredible granular level you will likely be off by a couple of Euros here and there.
So, are you going to tell me how to save?
Yes and no. In short, spend less money (lol)
Saving involves re-alligning priorities, pertaining to but not limited to: Electricity savings (previous article I wrote here) savings on food or alcohol costs if these are excessive, maybe finding a cheaper internet provider, or perhaps even not subscribing to every streaming service under the sun.
What do I do? I'm glad you finally asked.
I rarely go out and buy coffee. Rather than spending 3 Euros+, I make it at home with this nifty device called an AeroPress and buy coffee grounds. It ends up being much cheaper, (calculation: one coffee every day of the year for 3 Euros each, runs you 1095 Euros a year vs. 50 Euros for the AeroPress and 10-15 Euros a month for the coffee = 230 Euros) and in some cases it tastes better. Nod, Starbucks.   Things also taste better when you make them yourself right?
I save a lot on electricity by consuming the minimum. This is a whole other deep dive, if you're interested - go here.  
I always ask myself the following before I buy something: Do I really need this? To give an example from last week: I decided against ordering food for 30 Euros, and instead went to the shop and bought food for 30 Euros which lasts me a week. For the most part this is going to be no. Try it out. (extra tip, sleep on a spending decision for a night or two, to take the impulsive out of it)
I rarely drink. If I do, it's a choice of cheap drink in low quantities. I have met people who can put away 15 drinks in a night - all well and good and 'badass', but for what? To have 120 Euros less the next morning and feel horrible? Great.
I regularily go on sites such as switcher.ie to check if I can get cheaper internet, insurance, phone and electricity deals. Unfortunately in todays society, loyalty doesn't matter much to these firms (in my experience anyway) so switching won't hurt anyones feelings and will usually yield a better price for you.
This may be a controversial one (actually I think it most definitely is) but here goes: leave out those compulsory christmas presents for those distant family members, friends you don't interact with, friends parents and their cousins. Keep your circle of gifting small, plus; it's the thought that counts.
What is all this for anyway?
Now that you have two methods of understanding your money in and out flow, it should get you thinking more in a saving mindset because it might actually scare you how much you spend on x objects or services, or perhaps alcohol every month. It's always good to make a goal. Why are you saving?
Holiday to somewhere, your own house, a new RTX 4070ti graphics card (as is in my own personal case)
There is also no harm to just save with no particular goal in mind. It's always useful to have money in your backpocket (or taped to the bottom of your mattress) in case an unexpected expense such as a medical bill or car repair comes up. You never know, but at least you are not in a position where you don't have it.
I hope I was able to provide you with some valuable nuggets of information, and that you will be able to apply some of these yourself. If you have thoughts on the topic, leave a comment, subscribe for more or get in touch via email here!
Best,
B